http://adage.com/article?article_id=126362
Is Earth Day the New Christmas?: As More Marketers Pile On, Consumerism May Eclipse Spirit of Event
By Natalie Zmuda
April 14, 2008
NEW YORK (AdAge.com) --
It's nearly Earth Day: Time to consume more to save the planet
.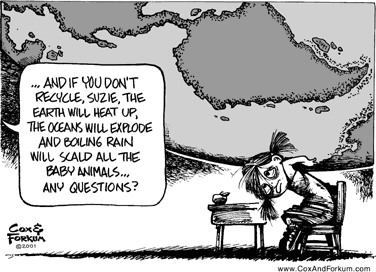 As April 22 approaches, marketers of all stripes are bombarding consumers with green promotions and products designed to get them to buy more products -- some eco-friendly, some not so much. And while that message seems to contrast with the event's intent, the oxymoron seems to have been lost on marketers jumping on the Earth Day bandwagon in record numbers
. This year it seems that just about everyone has found a way to attach themselves to what is fast becoming a marketing holiday that barely resembles the grass-roots event founded in 1970.
[IT IS QUITE COINCIDENTAL THAT THE 'MAKE OR BREAK' DEMOCRATIC PRESIDENTIAL PRIMARY IN THE STATE OF PENNSYLVANIA WILL TAKE PLACE ON APRIL 22, 2008, EARTH DAY. AMERICANS SHOULD EXPECT TO HEAR MUCH ABOUT THE ENVIRONMENT FROM MADAME CLINTON & MONSIEUR OBAMA.]
"This month I've definitely seen a lot of companies that I never would have associated with green popping up," said Steven Addis, CEO of Addis Creson, a branding firm. "Companies are saying, 'We need something to green ourselves up, so let's ... sponsor Earth Day.' ...
It's really now in this hype curve
, and hopefully we're getting toward the top, so we can start having some fallout."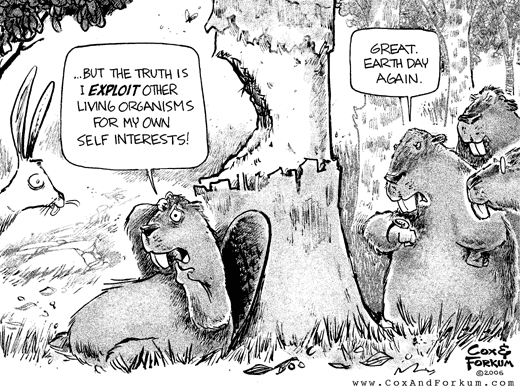 Sustainable for one day
Indeed, many have begun to worry that as nearly every company out there paints themselves green, they are losing touch with Earth Day's reason for being.
"My concern is that some companies just view [Earth Day] as a marketing event, like Thanksgiving or Christmas," said Larry Light, chairman-CEO of Arcature, a management consulting firm
.
"Then they've fulfilled their obligation for the rest of the year. The whole issue of sustainability means that a commitment also has to be sustainable. If it's only for one day, then it's a marketing event."
[THE PAGAN RELIGION OF ENVIRONMENTALISM HAS FORMER VICE PRESIDENT AL GORE TO THANK FOR THIS COMMERCIAL OPPORTUNISM AND 'ONE-DAY' CONSUMER CONFESSIONAL WORSHIP, GIVEN HIS GLOBAL CELEBRITY, BOX OFFICE RECEIPTS AND 'NOBEL PRIZE'.]
To be fair, many companies are already looking beyond the month of April by embracing comprehensive sustainability programs. But, regardless, the fact remains that as Earth Day approaches, consumers will find it difficult to avoid green messaging.

Consumers can, for example, shop at
Banana Republic
, where 1% of sales from April 22 through April 27
benefit the Trust for Public Land
. Or they can participate in
Macy's
"Turn Over A New Leaf" campaign
by making a $5 donation to the National Park Foundation. In exchange, customers receive 10% or 20% off most merchandise the weekend of April 26.
Newsweek
subscribers can actually fashion the cover of the April 14 issue into an envelope to send plastic bags to
Target
in return for a reusable tote bag. Then there's
Toys 'R' Us'
launch of "enviro-friendly playthings,"
Sweet Leaf Tea
's missive to "Don't just think green. ... Drink green" and
Fairmont Hotels
' introduction of "Lexus Hybrid Living Suites." These days even Barbie has a green-accessories collection.
Seeing green
Major marketing dollars are behind these efforts. Experts concede it's difficult to quantify the amount of money spent on green marketing, but, collectively, it's clear companies are spending tens of millions
.
This month,
Wal-Mart
is running seven national 30-second spots, created by the Martin Agency. The commercials, bearing the tagline "Budget-friendly prices. Earth-friendly products," promote T-shirts made of recycled bottles and organic coffee, among other things.
In addition to charity shopping days,
Macy's
campaign involves giveaways of saplings and reusable totes, promotes eco-friendly merchandise and includes TV and newspaper advertising, as well as mention in the retailer's direct-mail catalog and in-store signage.
Clorox
is also flexing its green muscles this month. Its Brita brand's integration with NBC's "The Biggest Loser" has resulted in the elimination of plastic water bottles from the show's campus. And with the season finale slated for Earth Day, the brand is planning plenty of in-store marketing around the TV program.
"It's not black or white," said
Mr. Addis
, of the Earth Day conundrum.
"It's great that people are paying attention. It's great that companies are starting to do something, but what really drives me crazy is when it's used as a vehicle of greenwashing
. I call it the 95-5 rule.
Five percent of somebody's business is green, but 95% of their PR is green."

[WE WONDER WHEN THE STATE ATTORNEYS GENERAL OF THE 50 U.S. STATES AND THE U.S. FEDERAL TRADE COMMISSION WILL DECIDE TO CONDUCT FORMAL INVESTIGATIONS IN ORDER TO DETERMINE WHETHER CONSUMERS HAVE UNWILLING BECOME THE VICTIMS OF WIDESPREAD VENDOR FRAUD and/or MISREPRESENTATION AS THE RESULT OF CORPORATE 'GREENWASHING'.]
Wolves in green clothing
And that seems to be the sentiment among
many experts
, who
recognize that separating the good from the bad is a tricky endeavor."There are some companies that are still feeling their way around and probably greenwashing to some extent," said Ken Rother, president-chief operating officer of

Tree Hugger

and VP-operations of Planet Green Interactive. "This is the problem of our times, but anything that raises awareness is good."
Experts said that, generally, initiatives that raise money for a specific cause or increase awareness, such as Macy's "Turn Over a New Leaf" campaign, are in keeping with the Earth Day message. However, those companies that play up tenuous links to Earth Day simply to drive sales are contributing to the din and confusing consumers.
[UNTIL NOW, RELIGIOUS ENVIRONMENTALISTS DIDN'T MIND TOO MUCH IF THE ADHERENTS WERE HERETICS AS LONG AS IT SOUNDED GOOD.]
The Federal Trade Commission has begun to respond to concerns about that.
It announced in November it would begin reviewing its green-marketing guides, last updated in 1998, this year

.

The move comes a year ahead of schedule, in response to the increase in green-advertising claims, the FTC said.
Wal-Mart: Ads tout recycled materials

.
But until the FTC updates its guidelines, the green-marketing landscape is akin to the Wild, Wild West

. Anybody, it seems, can claim the mantle of green, if it suits them.

[THIS IS THE PRIMARY PROBLEM WITH PROCLAIMING ONE'S GREENNESS - THERE ARE NO OBJECTIVE PERFORMANCE-BASED STANDARDS, ONLY SUBJECTIVE POLITICAL STANDARDS.]
"The combination of indiscriminate messaging, where everybody has a green message [and some are] flat out greenwashing, and people who are clearly not friends of the environment portraying themselves as that is leading a lot of people to be a little more skeptical," said Alex Steffen, executive editor of World Changing, a sustainability blog.
[IN OTHER WORDS, MANY WHO SUPPORT MADAME CLINTON & MONSIEUR OBAMA, AND ARGUABLY EVEN THESE CANDIDATES, AND AL GORE
, ARE INSINCERE ABOUT THEIR 'GREEN' CREDENTIALS. THEY MERELY SEEK TO MAKE $$ GREEN FROM APPEARING 'GREEN'. THIS REALITY GIVES CREDENCE TO THE ARGUMENT THAT CLIMATE CHANGE AND OTHER ENVIRONMENTAL / SUSTAINABLE DEVELOPMENT ISSUES THAT HAVE BEEN EXAGGERATED BY THE ENVIRONMENTALISTS INTO AN HYSTERIA TRULY SERVE AS FALSE PRETENSES FOR MORE & MORE GOVERNMENT REGULATION THAT CAN MAKE POLITICAL SUPPORTERS MUCH $$ MONEY.]
Saving the world ... yawn
And, if skepticism among consumers increases, one concern is that they could stop paying attention altogether. "Consumers can see through messaging that is not backed with a longer-term commitment to green," said David Wigder, senior VP-Digitas and author of the blog Marketing Green. "Moreover, if consumers are bombarded with too much messaging, they may simply tune it out."

[EVEN THE RELIGIOUS ENVIRONMENTALISTS SENSE A 'TRAIN WRECK' OF SORTS IF CONSUMERS BEGIN TO LEARN HOW THEY ARE BEING DUPED BY ALL OF THE GREEN PROPAGANDA PROMOTED IN THE MEDIA AND NOW BY INDUSTRY.]
Maureen O'Connor, publisher of sustainability blog Alternative Consumer, said the number of green pitches hitting her inbox is just one indication of the amount of noise in the market. "There are so many wannabes, it's frightening," she said. "There is such a proliferation of PR efforts that are over the top."

[EXACTLY RIGHT. ENVIRONMENTAL 'NOISE' / CLIMATE CHANGE HYSTERIA / RELIGIOUS ENVIRONMENTAL NONSENSE / GLOBAL ENVIRONMENTAL ARMAGEDDON.]
That is leading some to declare Earth Day an overcommercialized event that has lost the cachet that made it so successful in the first place.
"Earth Day's usefulness has passed," said Mr. Steffen. "The idea that we're going to direct our attention to the planet for a day or a week ... is not a sufficient response anymore. An awful lot of people view Earth Day as the time to express the idea that they are sympathetic to change. We need to move from being sympathetic to change to actually changing things
."
[THIS IS WHERE MONSIEUR OBAMA'S 'CHANGE' MANTRA COMES IN - HE WANTS TO CHANGE AMERICA INTO EUROPE WHERE THE RELIGIOUS ENVIRONMENTALISTS DETERMINE EUROPEAN UNION SOCIAL, ECONOMIC AND LEGAL POLICIES.]
Beware the Bloggers
As consumers become increasingly skeptical of green marketing messages, there's no better forum than the blogosphere.

Bloggers, with their witty posts and reputation for carefully vetting information, are fast becoming the most trusted resource for truly green products and promotions. As David Binkowski, senior VP-director of word-of-mouth marketing at Manning Selvage & Lee put it, "[It] better not just be window dressing, because bloggers fact-check everything."
[THAT IS WHY THE ITSSD JOURNALS HAVE BEEN CREATED: TO EXPOSE THE HYPOCRISY AND FALSE PRETENSES BEHIND THE DESIRED OVERREGULATION OF PRIVATE ECONOMIC ACTIVITIES/PROPERTY RIGHTS, HERE & ABROAD.]
Blogroll:
alternativeconsumer.com

biopact.com

causerelatedmarketing.blogspot.com

eco-chick.com

ecofriend.org

ecogeek.com

ecorazzi.com

greenlivingideas.com

greenthinkers.org

gristmill.org

groovygreen.com

inhabitat.com

jetsongreen.com

lime.com

marketinggreen.wordpress.com

sustainablog.org

thegoodhuman.com

theoildrum.com

treehugger.com

worldchanging.com


A recent report from Nielsen Online ranked Tree Hugger, World Changing, The Oil Drum and Alternative Consumer among the most popular sustainability blogs on the web. And all are far from ragtag operations.
Motley crew
The sites boast a mix of activists, scholars and experts in topics as varied as green building, energy and nutrition. Some came to the cause early -- one of Alternative Consumer's bloggers is Zach McGrath, a high-school junior -- but others, such as Tree Hugger's Kenny Luna, turned green more recently in response to climatic events.
Tree Hugger is the largest of the environmental blogs, with 10 staffers and more than 50 regular contributors around the world. Its founder, Graham Hill, dabbled in fashion, viral e-mail and plant-based air filters, among other things, before launching the site in 2004. He's also the guy that designed the ceramic cup that looks like a paper cup and reads, "We are happy to serve you."
According to Ken Rother, president-chief operating officer, as one of the more influential green sites out there, Tree Hugger aims to take advertising that adds as much value to the site as the content. Advertisers include Wal-Mart, Simple Shoes, Envirolet composting toilets and a band, The Weepies.
Pitching in
But even a smaller organization, such as Alternative Consumer, has eight regular contributors. Founded in 2007 by Maureen O'Connor, a native New Yorker, the site takes more of a lifestyle approach to green topics. Recent posts highlight hemp skirts and outdoor furniture made from recycled milk jugs, detergent containers and the like.
Advertising, meanwhile, runs the gamut from smaller green companies touting plastic-free diapers and eco-friendly dog sweaters to national brands such as

GE, Sun Chips

and

Hush Puppies
.
The nonprofit blog World Changing counts 150 contributors around the globe, with 25 regulars and five staff members. Its ranks include writers in Stockholm, Shanghai, Mumbai and Las Vegas, as well as one "Global Nomad." The Oil Drum, which carries only barebones Google ads, is slightly more mysterious. Its writers are largely anonymous and include "Prof. Goose," a professor in the social sciences, and "Heading Out," a faculty member in an energy production discipline.
--
Natalie Zmuda and Michael Bush-------------------------------------------------------------------------------------------------
http://news.aol.com/st
ory/_a/even-funerals-are-going-green/20080420074309990001
Even Funerals Are Going Green
AP
LONDON (April 20)
It's no longer enough to live a greener life — now people are being encouraged to be environmentally friendly when they leave the Earth too
.
Cardboard coffins, clothes sewn from natural fibers, a burial plot in a natural setting. Green funerals attempt to be eco-friendly at every stage. See, e.g., http://www.stibbards.co.uk/ecocoffins.htm ; http://www.greenendings.co.uk/coffinsandurns.htm ;

"People are trying to think about what's the best way to live and with that, what's the best way to die," said Roslyn Cassidy, a funeral director for Green Endings, which provides eco-friendly funerals.
Britain has been a world leader in eco-friendly funerals for years and a source of green burial products and ideas for countries like the United States
, where the trend is just starting to catch on. Over the weekend in London, those in the business showcased their products and services at the Natural Death Center's Green Funeral Exhibition.
Some may expect green funerals to be as cheap as a do-it-yourself project, while others might brace for price hikes similar to those fair trade food.
But, funeral directors say green funerals — like any — run the gamut.


"It's about choice, not price," said Fran Hall, marketing director for Epping Forest Burial Park
.
For a concept aimed at saving the Earth by going back to basics, an eco-funeral can be more complicated than it sounds. The Natural Death Center provides a handbook that suggests environmental targets for cemeteries
.
"You can take any funeral and make it greener," said Michael Jarvis, the center's director.
In a green funeral, bodies are not embalmed and are dressed in pure fiber clothes. Green campaigners say refrigeration or dry ice is a good alternative to formaldehyde, which can seep into the water system.
Biodegradable coffins also differ from the traditional mahogany
. Coffins on display included one made from wicker and decorated with flowers.
One visitor, Linda McDowall, admired another coffin bundled in a beige, leaf-adorned felt shroud, saying it looked comfortable
.
"Cozy and warm are not words you associate with death," said McDowall, a 48-year-old German and French translator.
Cardboard coffins — which are as thick as their wooden counterparts — can be decorated by family and biodegrade within three months
.
"The trouble is, they are a bit ungainly to use," said Oakfield Wood burial ground director Oliver Peacock. "They're not terribly easy to handle and if it's wet, they don't look their best either."
Particular care is taken in how coffins are buried at
eco-friendly graveyards
like Oakfield Wood, Peacock said.
The cemetery was a pasture when it opened in 1995. It is now speckled with more than 1,600 trees that mark plots along with a wooden plaque.
Marble tombstones are frowned upon
. Jeremy Smite, a funeral director at Green Endings, notes that
shipping and mining produce carbon and that marble is not a renewable resource.

For cremations — which account for 70 percent of British funerals — a person's ashes and the remains of the eco-friendly coffin are placed in bamboo, glass or ceramic urns.
New legislation in Britain requires reductions in the mercury content of plastics and treatments used in coffins starting in 2010. All biodegradable coffins meet the new standards.


Cassidy said small details are important for green funerals, such as using smaller cars instead of limousines in funeral processions.
"What people are wanting is to know that they're doing the best they can both for their loved ones and for the environment," Cassidy said.
-------------------------------------------------------------------------------------------------
http://www.mfe.govt.nz/publications/about/environz/environz-nov07/page10.html
Move over for Sustainable Product Design
(New Zealand Ministry for the Environment website)
November 2007
Sustainability is a driving force for product innovation and yes, it's good for our environment, too.
Mortality is not something people like to dwellon every day, but have you ever considered the environmental impacts of a coffin?

Mortality is not something people like to dwell on every day, but have you ever considered the environmental impacts of a coffin? Plastic, synthetic linings and glue containing formaldehyde are features in most New Zealand coffins.
Now that more New Zealanders are becoming aware of their impact on the environment, the demand for natural burials and eco-friendly coffins is growing.

[WE SURMISE THAT ALL OF THAT ISOLATION & SHEEP FARMING IN OCEANIA MUST HAVE GOTTEN TO THESE KIWIS]
This is where the Return to Sender eco coffin, designed by Greg Holdsworth from Holdsworth Design, comes into play. It uses a minimum of materials which are also bio-degradable and non-toxic.
The interest in and uptake of the coffin are proof that its stylish, unique design appeals to a wide range of people, not just 'green' consumers.
It is a great example of how good product design can go hand-in-hand with sustainable principles.
Designers are increasingly aware they have a responsibility to include sustainable principles into their work, says Cathy Veninga, Chief Executive Officer of Designers Institute of New Zealand.
"Ideally, products should be designed in such a way that consumers can rest assured the product of their choice is sustainably sound," said Veninga.
With research showing that about 70 per cent of the environmental impacts of a product are determined at design stage, thinking about sustainability at the drawing board is an effective way to improve a product's green credentials.
The Return to Sender eco coffin won a silver award for sustainable product design at the 2007 BeST Design Awards, supported by the Ministry. Formway Furniture struck gold, at the same awards, for their Met Adapt office furniture range.
However, the design world are not the only ones thinking sustainability at the drawing-board. Awareness is also gaining moment in the packaging industry.